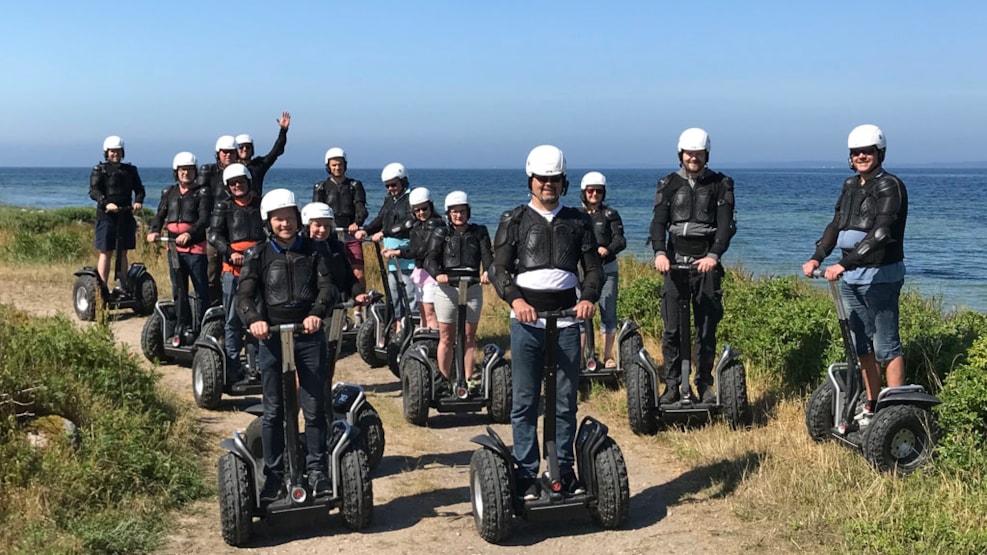 Segway Langeland
Segway SightseeingTake a Segway Sightseeing and experience Langeland in a fun and different way. You learn to drive in 5 minutes, regardless of age.Everyone starts with thorough instruction and training in a closed area at Segway Langeland.From here, the trip goes along the Langeland country roads, gravel roads and asphalt roads along the east coast. 
We also drive a short distance to the beach. It's a great experience! The trip is approx. 7 km.Or book the extended Segway Sightseeing Tour of 13 km. On this trip you drive along both the east and west coasts of Langeland.Segway Langeland's guide is on the whole trip to help you, while he tells stories and anecdotes about Langeland via the built-in speaker in your helmet.You must be over 12 years of age to participate in our Sightseeing tour.Segway BaneIf you are under 12, you can easily drive a Segway anyway.Are you into beards and speed? So come and have a fun experience at Segway Langeland on their 17,000 m2 track. 
Here, children and adults of all ages can ride together. However, it is recommended that children are min. 115 cm high.Everyone receives individual training in the use of Segway before starting, so you feel safe and have a good experience. 
After the instruction, you will be released on the field, where you can challenge yourself, your family or friends. 
The instructor is present throughout the ride, ready to help you if challenges arise.